At work we celebrated Holi this year. A good time was had by all.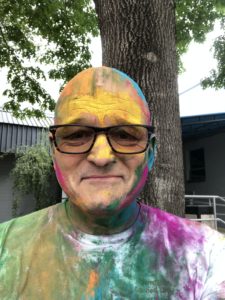 This reddit comment succinctly describes my experiences working in commercial software startups and, to a lesser degree, in established commercial software companies:
I've been in HCIT/Software for twenty years, and every time there was a major bug that caused a fiscal impact to the company when doing RCA, it always, 100% of the time happened because someone up on the food chain overwrote the decisions of the people who knew what the fuck they were doing.

I explained to him like this:

Salesman goes to a client and asks, "what will get you to buy this widget from me?"

Client replies "it has to do everything"

Salesman agrees.

Sales then delivers the requirement of everything to the product/project manager. PM then asks their team, "how long will it take to do all this?" The team will respond "eleventy years."

PM goes back to sales to state it will take eleventy years, which of course isn't good enough. PM asks sales then when do they need it by, which is always "immediately."

PM goes back to their team, "What can you do by this date?" They respond with a much truncated list. PM provides it to Sales saying this is all they can deliver in that timeframe.

Sales then loses their shit, bitches to senior leadership if not all the way up to the C Levels, "We are gonna lose this huge ass sale because they cannot deliver everything by this date!"

So then the COO or SVP over development/production forces the team to just put out as much as they can by that date, so in order to do that and keep their jobs, corners are cut, QA is skimped, and you get a pile of widgets with an unacceptable defect percentage.

Then something breaks, everyone has to scramble to clean the mess, all the while the C Levels are blaming the development and operational teams and the sales guy is jerking off with the piles of cash from his commission and doesn't give a shit, cause once the contract is signed it's not his fucking problem anymore.

All the while the client really only wanted a widget that was affordable and worked.
Recently I've been reflecting on my history as an amateur photographer. I spent 1982-3 as a high school exchange student in Austria (for you German speakers, I really lived in a village called Großklein). Before I left, I decided that I wanted to buy myself a good camera. A friend had a Canon AE-1, which was the consumer-grade pinnacle of SLR technology at the time with shutter-priority auto-exposure. My dad, however, asked a professional photographer for camera buying advice, and he recommended a Pentax MX SLR camera. The only technology on the MX was a built-in light meter. As you manipulated shutter speed and aperture size, a row of LEDs along the bottom of the viewfinder indicated whether the light level was good (red – yellow – green – yellow – red).
Film photography had two big constraints that are unknown to digital photographers. The first is delayed gratification; you don't get to see your photo until after the film is developed and printed–which was a matter of days at the very least (hence the eventual popularity of same-day photo processing). The other limitation was cost; there were three separate expenses related to film photography: the film itself, and the costs of developing the film and printing photos.
The constraints of film photography with an all-manual camera forced me to really learn the basics of photography–the interaction of film speed, aperture size and shutter speed–and to become a disciplined shooter in order to get the shot that I wanted. Taking multiple photos with different settings was prohibitively expensive;  there were essentially no do-overs; and post-processing was expensive and limited only to professional photography.
I've been taking photographs with a digital SLR for well over a decade now, and post-processing gets easier all the time. Yet I remain a mediocre and ambivalent post-processor of my photos. I reflected on this recently and realized that this attitude is due to my long history with film photography: I still consider getting the photo to be 90% of photography, whereas photographers who grew up on digital consider post-editing a much larger and more important part of the process.
When I lived in Austria, I shot slide film mostly–it had better color and was somewhat cheaper since you didn't get prints. All this reminds me that I still need to get my slides from that period scanned. I think I'll work on that today.